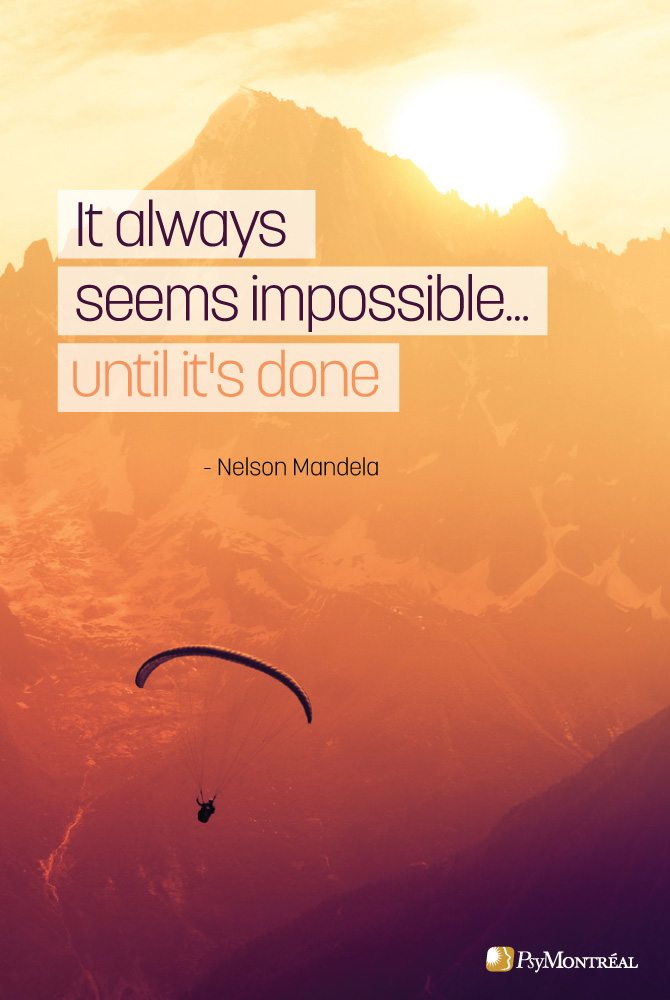 We often set ourselves big objectives: goals that seem (paradoxically) out of reach even if we stretch as far and high as we can. Much like our clients, we will stumble along the way. After all, change is complex process! Even though we are motivated and want to change, a third essential component is required for the process to be successful: you will need an action plan. The latter is the fourth and final stage of motivational interviewing which by no means makes it the easiest.
During the motivational interviewing workshop we presented the story of a 14 year old girl from Ontario who swam from Niagara to Toronto in the summer of 2012. This feat involved over 27 hours of continuous effort over a 52, 5 km distance with the goal of collecting enough money to send children diagnosed with cancer to summer camp for a week.
Motivation must be in full force when one sets out to tackle such big goals. The young swimmer set an objective that was near and dear to her heart, one that she felt confident she could achieve. In light of this, why did she need the support of her coach, encouraging her with every stroke she took? It's normal to see our motivation fluctuate on our path to achieving such big objectives. It is for this reason that we need something that will keep us heading in the right direction. Enter the action plan: a constant reminder of the objectives we set ourselves and the reasons for doing so. The action plan keeps us motivated throughout our journey and helps us overcome those lulls in motivation that urge us to quit.
Despite the long hours of training and preparation, the young girl considered quitting. Encouragements from her coach reminding her of the money raised and the stakes at hand motivated her to reach the finish line. The action plan, a tool explored in our MI workshop, acts as a personal coach for your client, a constant motivator that encourages them along the way and enables them to reach their goals.
The next time you see them, with action plan in tow, your clients will be heading in the direction of change.
Click here for an action plan.
For more details on the inspiring story of the young swimmer, click here.
Photo credit: PsyMontreal Pinterest