In helping you reach your goals, it's important to make a distinction between process goals and results goals. Examples of results goals are: "I want to lose 10 pounds", or "I want to go to Mexico" for vacation this summer, or "I want to win the championship". These are examples of "big picture", end result objectives we usually strive to attain. The problem with framing our goals in this manner is that it usually leads to discouragement and frustration when we don't achieve them quickly enough – and of course, these are goals that need a lot of patience and determination!
So what to do?
Instead of thinking in terms of results goals, think in terms of "process" goals". The process goals are the many steps that you actually have to take in order to get to your result goal. You can only apply S.M.A.R.T. goals to a process goal, not to a result goal. For example, you can't just "lose 10 pounds". You actually need to engage in healthy behaviors, such as eat better or exercise more, and then the beneficial consequence of eating better and exercising more will be to have a healthier weight. Thus, having a healthier weight becomes the advantage of engaging in the SMART goals of eating better and exercising more.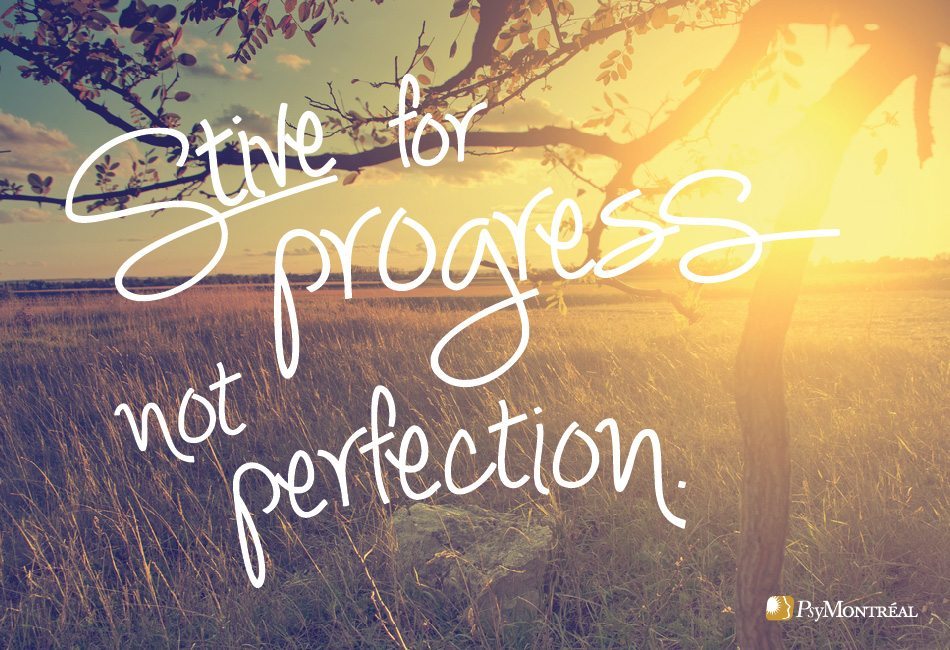 Examples of SMART process goals for "I want to lose 10 pounds" could be:
At each meal, half of my plate should be tasty fruits and vegetables for the next 2 weeks.
Do 30 minutes of an enjoyable cardiovascular exercise on a daily basis for the next 2 weeks.
Etc…
For going to Mexico for vacation this year, examples of SMART process goals could be:
Put 100$ a month in a separate "vacation" savings account to save for the trip for the next 10 months.
Every Sunday evening, do a 20 minute search on vacation websites to find a good deal.
Etc…
Examples of SMART process goals for "I want to win the championship" could be:
Practice 3 times a week, an hour per practice, until the date of the big game.
During the big game, if I'm losing, don't get demoralized – instead, use cognitive strategies to stay focused on the moment.
Etc…
Of course, it's always more impactful if you have someone helping you define and achieve your goals, so feel free to get help from one of PsyMontreal's psychologist specialized in coaching in Montreal.
Photo credit: PsyMontreal Pinterest
–
We are here to help you.
For more information on our services, or for help on deciding which of our team psychologists to choose, don't hesitate to contact our clinic coordinator at 514-337-2473, ext. 0, and it is with great pleasure that we will discuss with you the psychological services we can offer you.